Well the big gig finally arrived last Friday and I think it all went pretty well. It didn't take me too long to get to Leeds and I found the venue really easily from memory.
It was the first tryout for my new live set-up and as I'd not had chance to try this out before the gig there were a few teething problems, but nothing major.
Finally got everything set-up, posed for some photos then went out for pizza.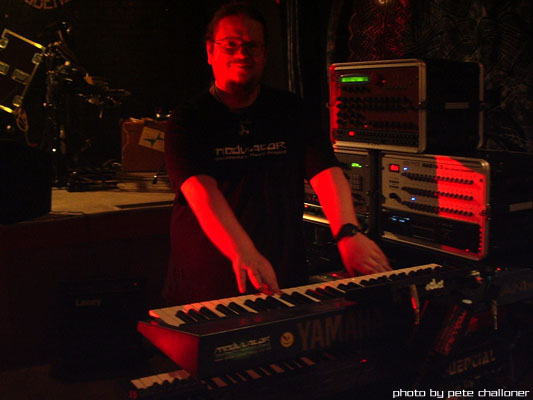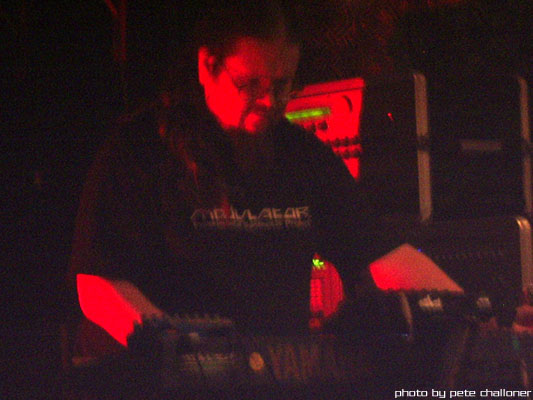 I was onstage at approx 8pm and played for around about an hour, performing two new, improvised and as yet nameless pieces.
The whole experience was quite nerve-wracking and has to be my scariest gig so far, as there was quite a large audience (by my standards), full of 'EM Rock Stars' including Steve Dinsdale of RMI, Dave Gurr and Xan Alexander of the Omega Syndicate, David Hughes of Skin Mechanix and Ron Boots who was headlining. There were also quite a few faces I recognised from the National Space Centre gigs and an unexpected appearance from an old friend who'd driven all the way from the Lake District to see me play.
So first the first few minutes I was rooted to the spot with fear, praying that everything would work and I'd not make a huge cock-up of it all.
After a nice atmospheric intro (well apart from a some uncontrolled resonance in one of my fx patches producing some rather alarming distortion) I started to settle into a groove and began to enjoy myself. After about 26 minutes (how time flies when you are having fun) I decided to gradually bring things down and fade out on the weird noise fx (and some more distortion - oops - forgot about that)
The applause was nice
Part two began a few minute later after some frantic re-setting and patch changing. Unfortunately there was a bit of a cock-up with the drum machine as I forgot to turn it down, but heh, that's what you get with live music. I didn't think the second piece worked as well as the first and I got a bit stressed as things weren't sounding how they should and it just didn't seem to flow as well as the first part. Soon of enough though another half hour had come and gone and it was time to finish part 2.
More applause, perhaps it wasn't so bad after all.
After me was Ron Boots and Harold van der Heiden, with some melodic EM in a sort of Klaus Schulze vein, though I was a bit too shell-shocked to pay too much attention for the first half of Ron's set, I definitely got into it in the second half.
after that it was time to pack up, then get lost in Leeds and finally home to bed.
I've not listened to the minidisc recording yet as I've just had quite a busy week
Moe photos will be posted in due course.